Post by Damian on Dec 5, 2014 13:46:24 GMT
Full Name:
Damian Oliver Kent
Mini Profile Name Color:
Dark Yellow or orange
Nicknames:
none yet
Age:
20 years old
Birthday:
 15 and July
Gender:
Male
Showdown ID:
None yet
Starter Pokemon:
Charmander-Male
Nickname:
Pyrus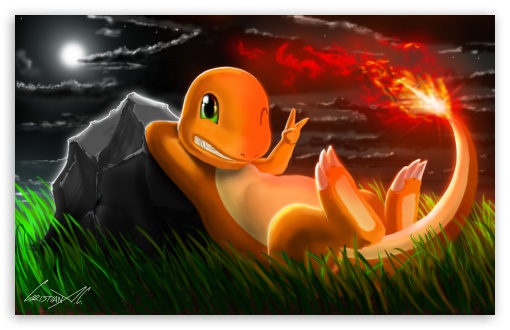 Appearance:
Personality:
Damian is quite the odd young kid,generally Damian is brutally honest about anything, If he thinks it you'll hear it thus everyone around him knows exactly what he is thinking. Not that you'd actually enjoy knowing what he thinks,He has a rather philosophical view of everything and at times drives himself into hours of thought about the very existance of everything he is able to take the simplest things and expand them greatly making for interesting and odd conversations.
He has a rather twisted sense of humour and hardly really cares about things in general, The only things he actually cares about are family, a few friends and training. He has been known to have a very short temper if pushed to it and loses it known to be as much a hot head as Pyrus. Another well known trait is his flirty Nature, Its almost natural to him to flirt as much as possible where ever he goes, mostly he is also quite generous even to people he doesn't know.
Usually he is quite genius although he hardly uses it due to how much he doesn't care about things, infact he tends to be careless and wreckless usually jumping into danger,adventures or anything for the hell of it. He also tends to really like gum before something big or while meditating and often gives people gum for no appearent reason.
Fears:
•Insects
weaknesses:
•Short tempered
•Blinded by beauty
•bluntly honest
•Naturally careless
Family:
Mother: Jade Kent
Father: Samuel Kent
History:
At first Damian had no idea of the pokemon world, infact his whole family had pressured him into becoming an amazing martial artist to the point where he was forced to travel the world by himself. He picked up nearly 60 fighting styles but at somepoint gave it up for drawing and painting, ashamed of telling his parents he had began selling his works of art that people really liked he lied and told his parents he was still fighting. Not much time passed before he was caught out and forced to come back home,but before that he picked up chinese habits such as meditation. The experience helped him grow greatly and by the time he was home he had gained much more skills than when he left and a necklace he believed brought him good luck, he never let's a single person touch it and hardly takes it off.
Back home once more all of his time was spent drawing, painting plus he still did a little training with his martial arts for his parents. This large burden was placed appon him since his father was one of the best fighters in the country. Not to long ago he discovered a pokemon care center,ashamed of not taking time to care for these creatures he spent more and more time there to the point of bringing along his own sketching book and pencils. In a frame of two weeks his walls were full of sketches of Pokemon he had seen. One of the nurses there had sujested he become a trainer because she had seen him there so many times and at first he didn't think someone as violent (because of the martial arts)and as odd as him could raise a pokemon well enough but over time he got to see Pokemon and their owners , no matter how odd the owner may have been there was a pokemon that matched him or her and liked them so he finally decided to try and get one of his own.