Post by Pantheon Ronin on Dec 10, 2014 6:37:36 GMT
Full Name:
Pantheon Kendrick Ronin
Mini Profile Name Color:
Light blue or red
Nicknames:
Dracula,sea monster kid etc due to his history.
Age:
#17
Birthday:
 29 June
Gender:
Male
Showdown ID:
None yet
Starter Pokemon:
Pikachu
Nickname:Zen
Gender:Male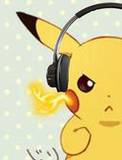 Zen is as musical as Pantheon and although he lacks fingers he is quite good at drums. Zen is very hyper and generally a very kind Pokemon,although he has a short temper and if he doesn't listen to his headphones atleast once a day he gets anxious and starts acting weird
Appearance:
Pantheon has jet black messy hair he usually prefers to keep in that manner and Pale skin, for a person of his age he is actually tall and a little musculen. To most people he is easy to notice due to his paranormally elongated canine teeth and slightly longer ears. He is usually seen on his skateboard. He has a very layed back sense of fashion and may top it off with a pair of thick framed glasses for the fun of it.
Personality:
Pantheon was always the kid at school people could count on to not give a damn about the situation,he can easily brush off pressure or stress and infact has nearly no problems with stress due to how he can keep his composure. He is also quite polite and it takes him very little time for him to befriend a person but then again its actually easier for him to label that person an enemy as well.
He is also known to lack a nervous gland as he is easily able to talk to a person about the most Embarrassing and odd things without showing any sort of remourse or being unsettled at all. He also finds it fun to perform wherever he feels like it.
He is also quite odd in general and to some people he comes of as delusional when he begins talking about things people usually wouldn't imagine , his behaviour patterns are nearly impossible to predict . Although with all the odd qualities it would be hard to imagine him as a caring person ,even though he shows little to no morality at all he can be Very caring to a person he gets along with which is usually an "either ,or" situation since to some people its hard to tell if he likes them or not.
At times he displays childish behaviour Purposely and prefers trying to make any situation fun and has learnt how to be a good climber like his Pikachu , so he can easily run apon buildings when feeling bored.
Eternal guilt
More than anything he blames himself for feeding people to a giant sea Pokemon the size of a sea monster by accident. Often haunted by dreams of how he escaped the sea monster and during these times he prefers to keep to himself.
Family:
Mother:
Mei Ronin
Father:
Katsu Ronin
Uncle:
Daniel Ronin
History:
At school he has had a few rough years due to being called Pokeboy, This all started when people noticed his vampire like teeth and slightly long ears. Being Pale didn't help the situation either he was always considered odd. Things however got worse when he began hanging with a pack of dog like Pokemon. As a result he picked up multiple survival skills and as soon as it got too weird he stopped.
Although his history as Pokeboy got only worse since his parents Pokemon always used to help around the house at times they were left to babysit him so rumours about pokemon being his parents also spread,they were soon cleared up and as he got older he was more accepted in general. Of course he grew more and more popular with the development of his musical skills. Things got weird when he gathered his school mates on a large ship for a year end performance, the ship was attacked by a
giant water pokemon even he had never seen and beleived to be a sea monster of some sort
. It was easily able to sink the ship and drag 19 students back down to the depths of the sea with it,never to be seen again from that day.
He had come up with the idea of a cruise and due to his popularity people agreed,so as a result he has been traumatized by the event and doesn't quite trust himself with the lives of others. People have accused him of doing it on purpose and suggesting that the students should go there because he knew he wouldn't die,people strongly beleived it had something to do with his vampire like appearance, and some labeled him the
kid that feeds people to his sea monster.